LAM FAMILY TIGER/CRANE
With the full approval and support of Grand Master Lam Cho and his sons Grand Master Lam Chun Fai and Grand Master Lam Chun Sing, the Lam Family Tiger/Crane School offers training in traditional Hung Ga Gung Fu in Northern California. The goal of the Lam Family Tiger/Crane School is to teach and promote the Lam Family style of Hung Ga to the general public. The curriculum includes:

• Empty hand forms
• Weapon forms
• Two-man sparring sets
• Self-defense

Chief Instructor George Kikes has been studying Gung Fu for over 30 years and has been traveling to Hong Kong for the past 15 years to further refine his skills.
Classes are offered on Tuesdays and Thursdays from 6:30pm to 8:00pm and are open to both adults and children. The school is conveniently located only 2 blocks from the Walnut Creek BART station.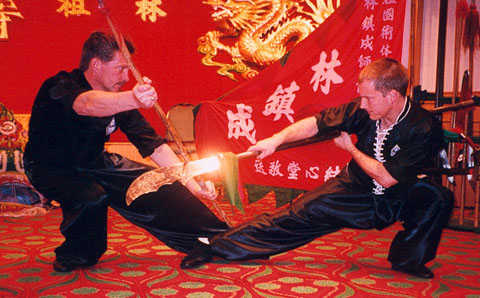 Lam Family Tiger/Crane
1662 Terrace Road
Walnut Creek, CA 94596
Chief Instructor George Kikes
Phone: 925-938-4454
E-mail: info@hungkuen.com
Classes: Tuesday & Thursday 6:30 – 8:00pm
Private lessons available by appointment