Grand Master Lam Cho's 92nd Birthday Celebration

<![if !vml]>

<![endif]>On Friday, 01 March 2002, the living legend of Hung Gar, Grand Master Lam Cho celebrated his 92nd birthday. A big birthday party/banquet in honour of Lam Cho sigung, was held at the Grand Lord Sea Food Restaurant located in Prince Edward/Hong Kong. Hung Gar practitioners, sifus and students from all over the world travelled to Hong Kong to attend the birthday.

All together, around 200 guests turned up for the birthday from countries such as; England, USA, Brazil, Greece, Italy, Chezch Republic, Germany, Singapore, Netherlands, Japan etc. The birthday party included traditional lion dance performance and breathtaking gung fu demonstrations which of course was followed by an excellent banquet of Chinese food and delicacies.

The entire main floor of the Grand Lord Sea Food Restaurant was booked off for grandmaster's birthday party. After the arrival of the guests, the festivities kicked of at around with an excellent display of traditional lion dance by Lam Cho sigung's grand students. The entire restaurant was surrounded by the sounds of the drum, gong and cymbal as the guests watched the display of lion's emotions and movements. Following the lion dance performance, Grand Master Lam Cho cut the birthday cake with his sons, daughters and grandchildren besides him.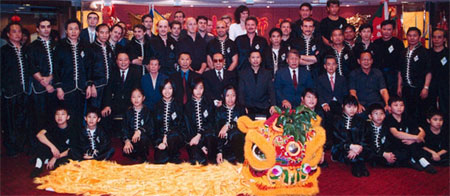 The next two hours of the birthday was packed with top-notch gung fu demonstrations. Sifus and students from around the world displayed their Hung Gar skills, performing wide range of hand, weapon and two men sets. Included in the demonstrations were awesome performances by sigung's youngest son Lam Chun Sing and the eldest son Lam Chun Fai. The demonstrations kicked off with excellent performances by young children, the future generations of Hung Gar. One by one, they displayed their hard earned skills by demonstrating variety of forms to the sounds of the drum. Following the kids' performances, next up was sifus, students and practitioners from different countries who in turn stepped forward to display their Hung Gar. Some of the forms demonstrated included sets such as; Fu Hok Seung Ying Kuen, Sup Ying Kuen, Kwan Do, Pek Kwa Darn Do, Gim, Ng Lung Ba Gwa Kwun, Fu Hok Doy Cha, Darn Do Chin Cheong, just to name a few.

Some of the main highlights of the evening included breathtaking performances by grand master Lam Cho's sons, Lam Chun Sing and Lam Chun Fai. The guests were thrilled by two separate performances of Master Lam Chun Sing the youngest son of Lam Cho sigung. Lam Chun Sing sifu displayed his lightening speed, power and superb skills with the empty hand form `Pang Pau Kuen`. He than gave a phenomenal performance of `Darn Do Chin Cheong` Spear vs Sword with Mr.Chan a long time senior student of Lam Cho sigung. The spectators were overwhelmed with the amazing accuracy, speed and skilfulness displayed by Master Lam and Mr.Chan. The closing demonstration was given by Lam Chun Fai sifu. He demonstrated his extraordinary skills by performing an empty hand set in front of the eagerly waiting guests. This certainly was the perfect final performance.

The hung gar demonstrations was followed by a photo session where practitioners from around the world gathered around grand master Lam Cho and his sons Lam Chun Fai sifu and Lam Chun Sing sifu to take photos. Afterwards everyone settled down to enjoy the delicious food and delicacies served by the Grand Lord Sea Food restaurant. The birthday party concluded with grand master thanking every guest personally for joining him at his 92nd birthday.