2003 EUROPEAN TEACHING TOUR

Grandmaster Lam Chun Fai's 2003 European Teaching Tour was as always a great success. Hundreds of students from all over Europe and other parts of the world came to learn and train under grandmaster Lam. This almost a month and a half long tour was organized by Grandmaster Lam's European students from various countries including Czech Republic, Germany, Italy, Greece and France. Overall, the 2003 teaching tour was a great learning experience and an exciting event for all those involved. Grandmaster Lam Chun Fai was very pleased with the dedication and hardship shown by his students and the seminar participants in Europe. As for the art of Hung Gar it was a great step forward. Thanks to the grandmaster Lam Chun Fai's never ending efforts and great teaching, the art of Hung Gar and the name of Lam family has spread far and wide.

Prague /Czech Republic
The first stop of the tour was, Prague Czech Republic at Roman Hladík's Czech Association of Hungkuen Kung Fu. Besides the seminars and the private lessons in Prague, an International Hung Kuen Tournament was held in honour of grandmaster Lam Chun Fai's Teaching Tour.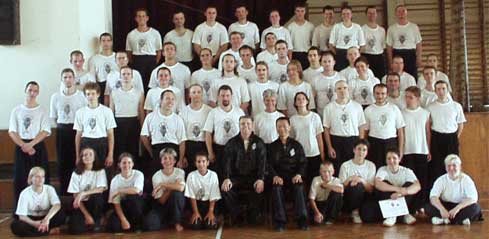 Prague Seminar
Moravia /Czech Republic
The next stop was Moravia, Czech Republic at Pavel Adámek Kung Fu School where grandmaster Lam stayed around 5 days to teach seminars and private lessons. It was a very exciting time for all the participants. Besides the seminar grandmaster Lam also attended an Open Martial Arts Exhibition.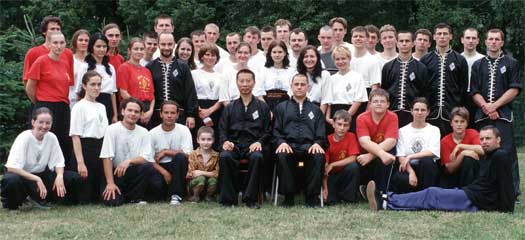 Moravia Seminar
Karlsruhe / Germany
Leaving Czech Republic, the next stop on the list was Karlsruhe, Germany at Andreas Garski's German Hung Gar Kung Fu Association. Many students turned up for the seminars and all were thrilled to be learning under grandmaster Lam.

Seminars in Karlsruhe, Germany
Avellino / Italy
From Germany, grandmaster Lam Chun Fai next traveled to Avellino, Italy to teach at Massimo Innaccone's Italian Academy Hung Gar Kung Fu. In italy grandmaster Lam stayed about two weeks teaching at seminars and private lessons. During his stay in Italy, grandmaster Lam Chun Fai was also invited to the Italian Open Martial Arts Exhibition.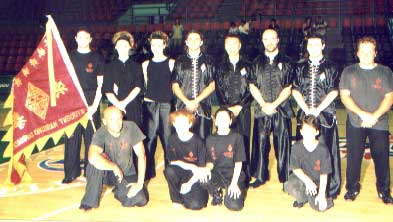 Grandmaster Lam Chun Fai in Italy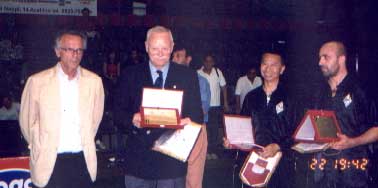 L to R= Giuseppe Saviano(President of Italian Olimpic Games Federation), Giuseppe Falconi(President of Italian Wushu Kung Fu Federation), Lam Chun Fai and Massimo Innanccone
Athens / Greece
The following stop after Italy was Athens, Greece at the Kostas Tsoligas's European Siu Lum Pai Hung Kar Federation.This was grandmaster's first ever visit to Greece.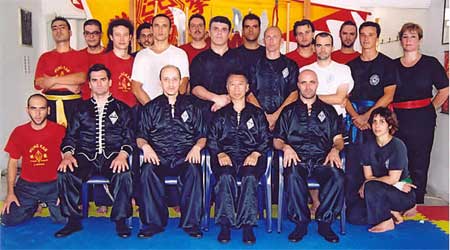 Grandmaster Lam Chun Fai in Athens - Greece
Paris / France
The finale of the tour was in Paris, France where grandmaster Lam stayed a week to teach private lessons before returning to Hong Kong.