Hung Gar's Lam Chun Fai
by Martha Burr

Bringing the Hung Family History, Legend and the War Palm to the 21st Century

<![if !vml]>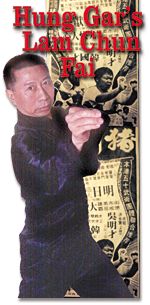 <![endif]>My own personal odyssey back into the Hung Gar legacy was in 1995, when I traveled with my sifu Buck Sam Kong and his wife Nancy to Hong Kong to meet his sifu, the venerable Lam Jo. Walking into the small studio in Mongkok I was overwhelmed with history - the walls were covered with photos and articles of a century of kungfu people and events. A huge portrait of Lam Sai Wing dominated one wall, and a rack of well-worn weapons, including an old kwan dao engraved with a tiger and crane on the blade, stood in the corner. At 89, si-gung Lam Jo was vigorous and robust, his handshake strong, and his appetite at yum cha more than healthy. It was over dim sum and dinner that I was first introduced to Lam Jo's son Lam Chun Fai. I was struck with his intelligence, sensitivity, and deep knowledge of kungfu. While he and my sifu caught up on old times, I had a window into their youth, into the long kungfu nights in the tiny, intense Hong Kong studio under Lam Jo, young men taking on the mantle of the Hung Gar heritage.

Kong remembers Lam Chun Fai visiting him for his tournament in Hawaii in 1974, where they also went out on a short kungfu tour on the island and in LA, Las Vegas and San Francisco, with their kungfu brother Y.C. Wong. A black and white photo of the three of them on stage still hangs in Kong's LA studio. I started my story on Lam Chun Fai two years ago when we met up once more in Hong Kong at the World Wushu Championships, where he was an official. He showed me his own Hong Kong studio packed with kungfu memorabilia, and I had another wonderful yum cha with him and Lam Jo and his family. My si-bak had fascinating stories to tell, both about growing up in Hong Kong, and also about Hung Gar's famous master Lam Sai Wing, Lam Jo's own sifu and uncle. He has since been traveling abroad, spreading the art of Hung Gar around the world. Here then, begins his story.

Inheriting Hung Gar's Legend
Growing up in the crucible of kungfu is both a wonderful and a difficult thing. In Hong Kong, everyone knows the name of Lam Jo. One of the last living grandmasters of a great generation of what many consider to be kungfu heroes, he is now in his nineties, and one of the few who can remember knowing Southern China's famous folk hero Wong Fei Hung. As the nephew of Lam Sai Wing, Wong's last disciple, Lum Jo lived and breathed Hung Gar, and went on to dedicate his life to preserving and propagating the art. Today his son Lam Chun Fai carries the torch, illuminating not only the legacy of his father, but of the entire lineage as well.

"My name was given by Lam Sai Wing, my great uncle," begins Lam Chun Fai. "He was born in 1860, and died in 1943, at 83. When my father was born his parents died, and Lam Sai Wing adopted him. He taught him everything about dit dar and kungfu growing up. It was very hard. Lam Sai Wing was a very stubborn guy." Witnessing Lam Jo's own strong personality, you realize some of this may have been organically nurtured. Lam Chun Fai started playing kungfu when he was five years old. He recalls, "At that time, when I was growing up, I had a big interest in it, and I tried to practice and play better than the other students. At that time my father trained us real hard, he was very serious. Every morning we went to the mountain, we lived not far from it on Hong Kong Island. I'd go up the mountain at 5:30 am. to practice kungfu with my father and some students. I was 14, 15 years old."

At that time there were many other sifu from different styles that also trained up on the mountain in the early dawn hours. Lam Chun Fai remembers, "If my father saw another style, he'd ask me to take a look first. What is this style? My opinion, he'd ask me. What are his good points and bad points? How does he play? It was a continual martial examination. I saw a lot of different styles, different lineages."

This was a skill Lam Jo was passing down to his son, a sort of intuitive knowledge, an encyclopedic reference of living kungfu. As Lam Jo himself refined the Hung Gar he learned from Lam Sai Wing, part of his martial genius was also creating innovations that would become part of his lineage. Says Chun Fai, "I learned the Double Dragon sword from my father, he created it. My father was incredibly smart about kungfu, and very clever when he was young. When he went out to perform at a holiday or banquet and he'd see other sifu perform, and he could see a set one time, or two times, and he could remember. The whole set. He didn't learn from other sifu, only from Lam Sai Wing. But he was good friends with other sifu, and when they'd perform he learned and had a lot of knowledge."

Teaching and Bonesetting
Lam Jo's main school was in the Wanchai district of Hong Kong. There were perhaps 50-60 students in the school at that time. As a young teenager of 15 or 16, every day Chun Fai practiced together with his father, and helped him run his other two branch schools in Hong Kong, teaching different nights at different schools. "I also had to train my brothers and sisters," he notes. "My two sisters and three brothers all learned kungfu. Later, we all helped my father to teach. Now, it's only me and my brother. One sister still helps my dad every day with dit dar."Lam Chun Fai says that at that time if you weren't playing kungfu well enough, it was because you weren't practicing enough. When that happened, watch out. "My father would get very mad. He always tried his best to make us much better. At that time I had no choice. My father told me I had to help him teach, to help patients in his dit dar clinic. I cannot say no."

Dit dar, or the art of bonesetting and Chinese medicine, is so closely tied to the Hung Gar tradition that it is virtually inseparable from it in Cantonese and Hong Kong culture. Even as a young boy Chun Fai studied the dit dar alongside his father, inhaling the pungent healing herbs, feeling injuries in patients to learn about muscle, bone and tendon. "I learned kungfu and dit dar at the same time," he says. "If you learn kungfu, you must learn dit dar first. Because in kungfu you may injure yourself, so it's important to know how to cure yourself. You must study dit dar for many years to get good experience."My brothers and sisters would also teach and do dit dar. My two brothers helped my father with the Kowloon school, and I would take care of the 3 schools on Hong Kong island. Several of my father's students, Y.C. Wong and Tang Kwok Wan also helped my father teach at that time. I taught morning, afternoon and night, 3 classes. If we had any spare time, we also practiced ourselves. We worked very hard."

Kungfu Society
While Chun Fai's long days were full of school and then kungfu until past midnight, the martial education continued, but so did the fun and excitement of being in the eye of the Hong Kong kungfu storm. "When I was a teenager I always performed in tournaments and doing demonstrations together with my father. We did the 2 man sets. My favorite was the dagger and spear with father, it was very fast and tough, very dangerous, because the spear touches the body a lot. My father, his students, my brothers - we'd just go out and perform the set, and edit on the fly." Besides performing, there was a lot of socializing among the kungfu people at that time. Chun Fai remembers Kan Tak Hoi was a good friend of Lam Jo's, and many times they would perform together at banquets, festivals, and charity shows. The Hung family was friends with Kwan Tak Hing, the famous actor who portrayed Wong Fei Hung in 100 movies. However, notes Chun Fai, "He didn't play Hung Style. We performed together when he was more than 60. We asked him to come and do lion dance."

Kungfu people often came together for fundraisers, to raise relief money for disasters like floods in China. Whether for charity, holidays or socializing, there was always another aspect of kungfu performance in Hong Kong - and that was to show the art to other people. "We'd always go out and perform with the school," remembers Chun Fai. "Show the people our style, they'd want to come and learn." As kungfu popularity grew in the 60's and 70's, Lam Chun Fai remembers the local Hong Kong shows thrown together by promoters. "They would rent a theater, and they'd have us performing kungfu and also ask actors and stars to come sing. It was very popular. When we learned kungfu in the old days the kungfu movies were not so popular. Only many years later. When I was 20 a movie producer asked me to do movies and become an actor. He wanted me to play Fong Sai Yuk. My father said no. Otherwise, I would do movies. If the first one was OK, then like the Wong Fei Hung series, they'd make 10-20 pictures. At that time the income was not so good. We didn't know acting would be so successful later." Nevertheless, he did make some guest appearances in Hong Kong film later on.