GRANDMASTER LAM CHUN FAI - HUNG GAR DVD
Broadsword vs Spear
Hung Gar Fighting Techniques
Double-Headed Staff vs Double-Headed Staff
By grandmaster Lam Chun Fai, president of the Lam Sai Wing Alumni Association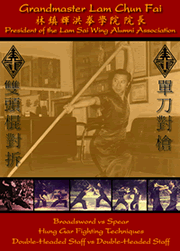 Available to the public for the first time, this DVD is a classic collectors item. It presents the world renowned Hung Gar grandmaster Lam Chun Fai and his late brother demonstrating the Broadsword vs Spear and the Double-Headed Staff vs Double-Headed Staff two men sets as well as the application of Hung Kuen fighting techniques. Performed in full speed and full power, this movie was shot in the late 1960's and has never been made available to the general public until now.

This dvd also includes the traditional family tree of the Lam family Hung Kuen as well as the biographies of Lam Sai Wing, Lam Cho and Lam Chun Fai.
Price: 35.00 Euros (excl. Shipping/Postage)
Discount for orders of 10 or more DVD's. Please contact info@hungga.net for more details.

Order Now
To order your copy now, please send an email to info@hungga.net for ordering details and payment methods.

Contact
Hung Ga United
Lam Chun Fai Hung Gar School
Hung Kuen Net

SYSTEM REQUIREMENTS: This DVD is in DVD+R (plus) format and will only play on DVD players supporting this format. Please check your DVD player first before ordering. On request the DVD can also be delivered in DVD-R (minus) format. Available in both PAL (for Europe and Hong Kong) and NTSC (for Noth America and Japan). Please specify the format when ordering.